We continue our series of publications about unreliable information sources, such as the Niezależny Dziennik Polityczny (Part 1, Part 2), as well as about experts, for example Xavier Moro.
This time, we'll look at two American, so-called, experts – former US Army Colonel Douglas Macgregor and military analyst Scott Ritter.
---
They were identified using the Instagram account – Counter-Disinformation Center, which is regularly updated and reports about misinformation, IPSO, directed against Ukraine. You can watch a video about Douglas Macgregor in the Vox check program issue.

The first graph shows the frequency of mentions of these experts in Belarusian online publications and social media, starting from February 2022, from the time of the full-scale invasion of the Russian Federation into the territory of Ukraine: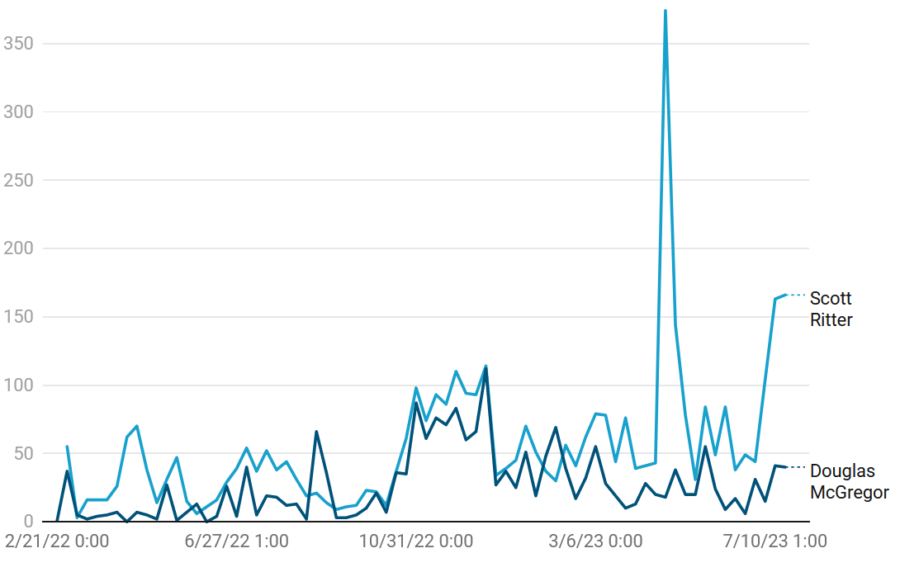 We can see that both American specialists are constantly present in the Belarusian information field, and their statements are quite regularly published by various Belarusian traditional and online media.
Main sources of Douglas Macgregor's statements publications: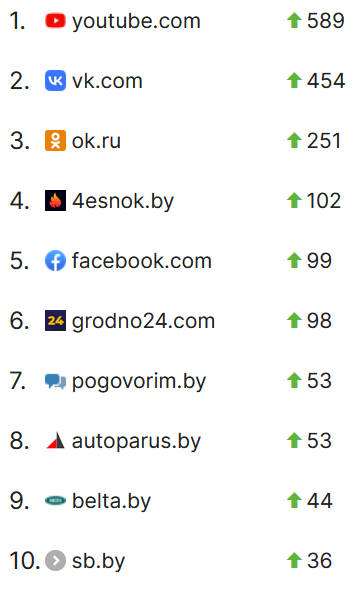 Let's see how some of the latest publications with quotes from the former colonel look like:

On July 22, 2023, the aggregator News of Belarus, Russia and the world posted on the social network Pinterest: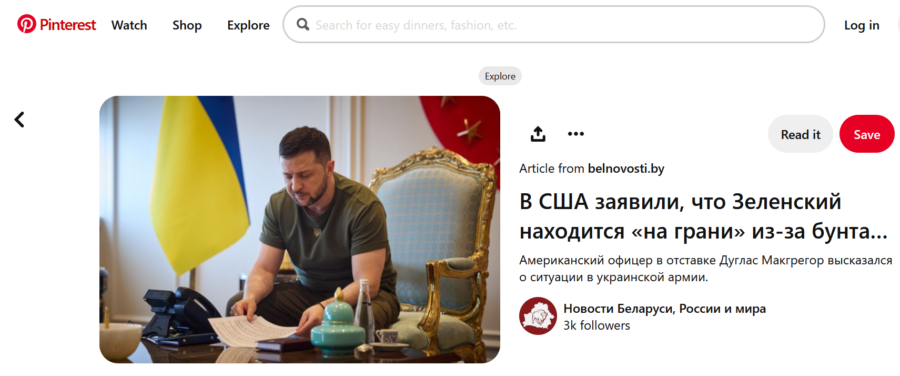 By the way, the web traffic analysis service Similarweb, placed belnovosti.by at the 12th spot for traffic in Belarus for June 2023: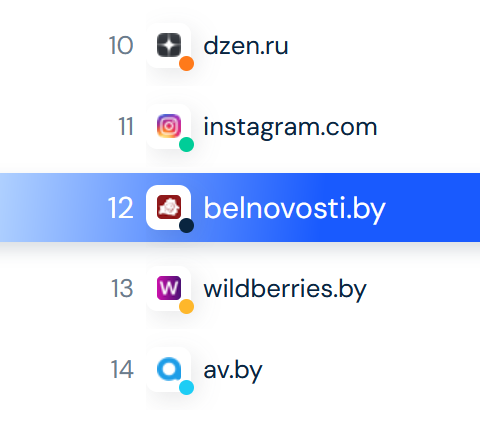 On July 21, ONT TV channel reported that Ukrainian children were being transported from Ukraine to Europe, where they were sold for organs or given to pedophiles: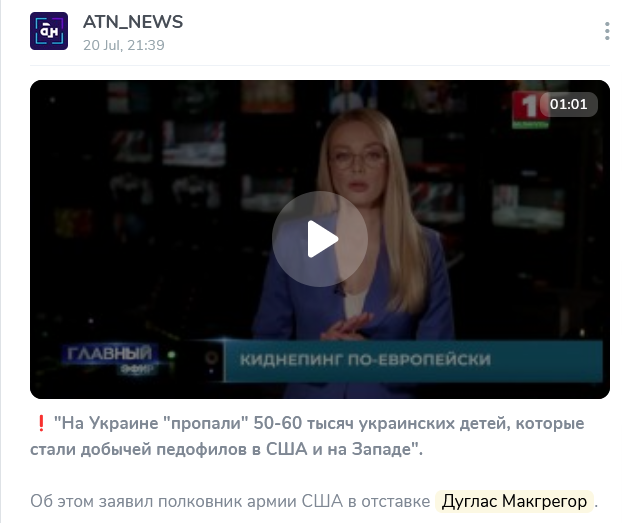 The "narrator" was retired Colonel Douglas Macgregor.
On this "expert" opinion, the "Belarus Today" publication prepared an article on July 22, 2023, under the title Cynical Kidnapping Elevated to State Policy by the Kiev Regime:


Let's remember that the "Publishing House 'Belarus Today'" is a modern, multifaceted holding, an Institution of the Administration of the President of the Republic of Belarus, that, having adopted the latest information technologies, carefully preserves the values of traditional journalism.
Another recent publication: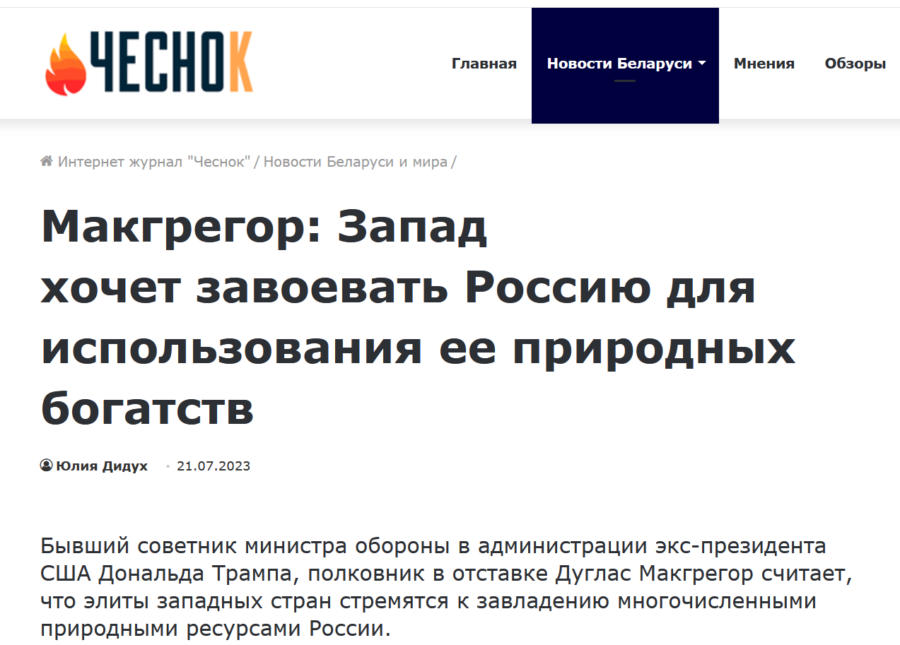 If you look at the distribution of mentions of Douglas McGregor in Belarusian Telegram channels, it turns out that until March 2022, i.e., before the start of the full-scale Russian invasion, his expertise was not required:

A selection of Belarusian Telegram channels where there were the most publications with statements by the former colonel:

Of course, channels with a small number of subscribers, except for ONT NEWS, but with a considerable frequency of quoting.

William Scott Ritter Jr. is a former American marine scout, UN weapons inspector in Iraq, columnist for The Huffington Post. He is an American of German origin, known as a critic of US foreign policy in the Middle East.
In April of this year, the ONT TV channel prepared an entire interview with the American expert: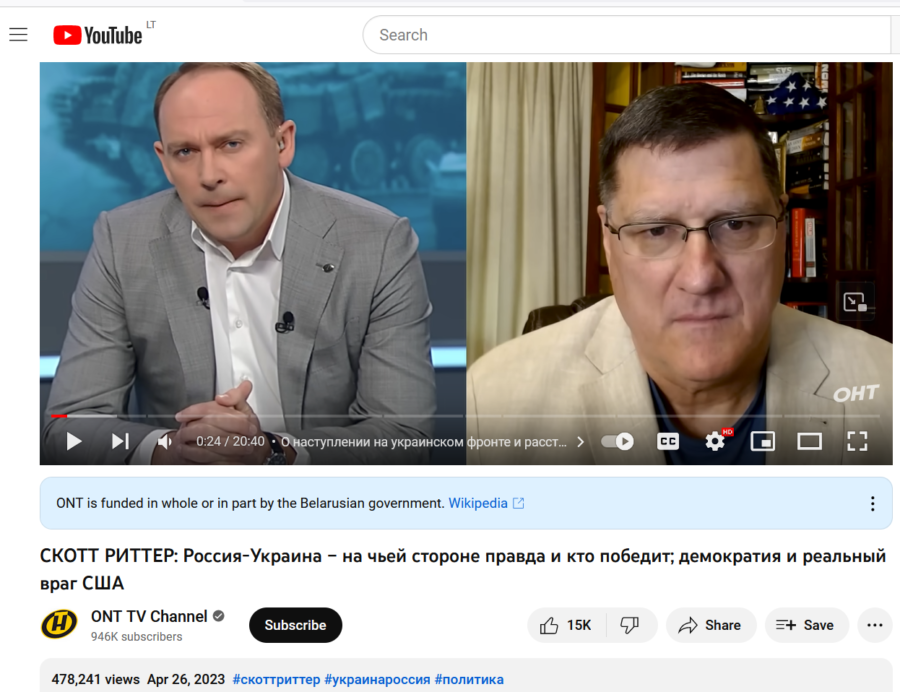 Just two days ago, Belarusian online media published his opinion that the leadership of NATO countries could resort to economic and logistical blockade of Russia's Kaliningrad in case of a devastating defeat of the Ukrainian Armed Forces as a result of a counter-offensive operation organized by Kiev: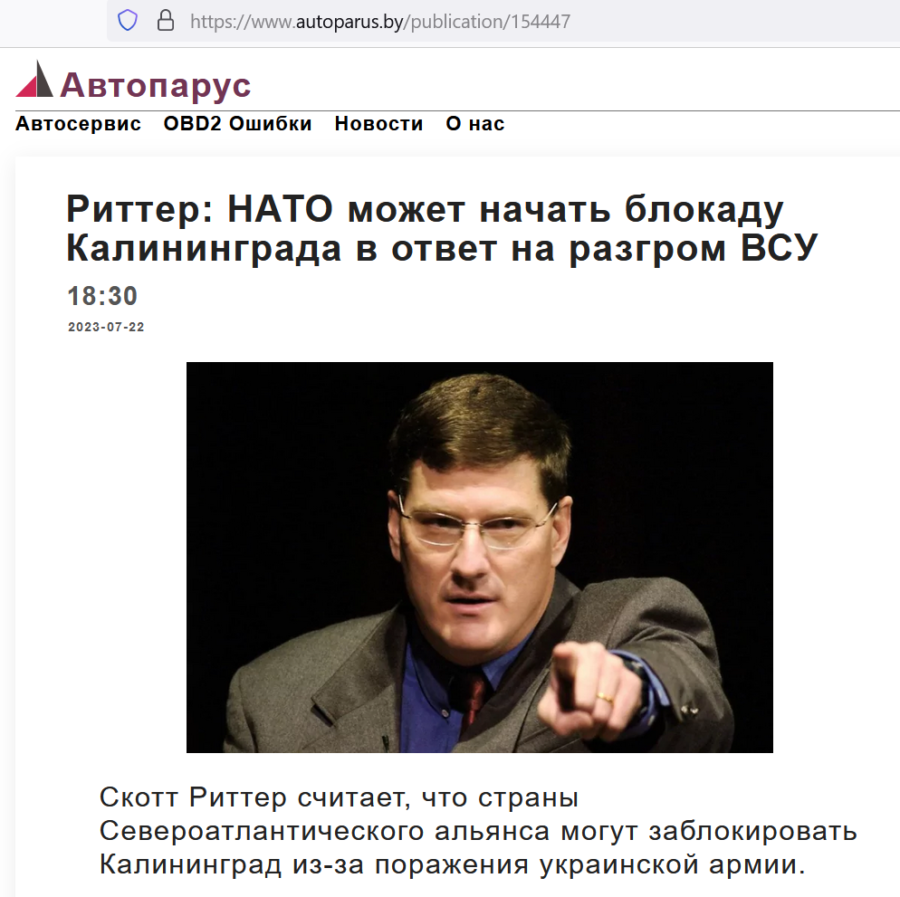 These are publications from July 24, 2023, key media outlets such as Belarus Today and Sputnik Belarus, owned by RIA Novosti, which justify the statements of the leaders of the current regimes in Russia and Belarus with the expert's comments:

Sources that most often cite Scott Ritter:

Eight out of ten sources coincide with the sources that most often mention Douglas McGregor.
The frequency of mentions of Scott Ritter in Belarusian Telegram channels:


Unlike Douglas McGregor, he started being involved already in February 2022. Little, only in five publications, but more and more thereafter.
Conclusion: We can observe a slight dichotomy – Russia and Belarus, aggressor and co-aggressor countries subjected to widespread sanctions and proclaiming their self-sufficiency, including in media, propaganda, and information security, still regularly need to find dubious experts in various countries, especially preferably with military service experience and any ringing statuses – advisor, former assistant, and so on, to devise incredible disinformation and then broadcast false and unreliable information to their audience.